Home
»
Gutter cleaning Dedham MA | Gutter,downspout cleaning service & gutter maintenance Dedham MA
Gutter cleaning Dedham MA | Gutter,downspout cleaning service & gutter maintenance Dedham MA
Expert Gutter & Downspout Cleaning in Dedham MA.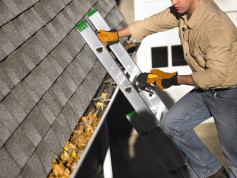 Gutter Cleaning from Vision Painting of Dedham, Gutter Cleaning involves removing the leaves, twigs, and gunk clogging your gutters and then flushing them out. We ensure that water is flowing properly through both the gutters and the downspouts for optimal function. And, because we're a professional Dedham MA gutter cleaners.We'll never leave a mess in your yard after we've finished your gutter cleaning. We bag the debris and haul it away so your yard looks as neat as it did when we arrived!
Gutter Cleaning Professional Service – Dedham Massachusetts:
Gutters are a great way to direct rainwater away from your house and foundation, but they sure are a pain to clean. That's why Vision Gutter Cleaning is pleased to be Dedham MA gutter cleaning service. Let us worry about the mess in your gutters so you don't have to! Our complete gutter cleaning services are what you need — so call today!
Contact us now to get a free estimates right over the phone for gutter cleaning in Dedham MA, downspout cleaning, gutter repair and other services. Please contact us to schedule a free estimate.

---
See what our customers have to say about us!
Exterior and Interior Painting
★★★★★
"
Vision did a great job, timely quotes, responsive to phone calls, friendly painters,neat. results were great.
"
Exterior painting & Carpentry
★★★★★
"
Thank for a beautiful job! I have filled out the Angie's list form and sent it in. Nancy Fay
"
- Paul & Nancy Fay - Northborough, MA
"
Dear Marcos, We can't thank you enough for the amazing job you did coordinating the painting job for our house. It looks great and we are so happy with the work your painters did. They worked so hard and were extremely kind, polite, and professional. Please see the completed testimonial attached and thank you again everything! We will be sure to call you again for any other painting projects that we have and recommend your company to anyone we know that is looking for a painter. Sincerely, Susan
"
- Susan Sullivan - Pembroke, MA
"
Hi Marcos, Just wanted to say thanks. Our house looks great after being painted. This took a lot of stress off our shoulders as we just don't have the time to paint ourselves. Plus our painting job wouldn't look as good as the work you did!! We will definitely contact you again if we have more work. Kind regards,
"
- Lisa Busher - Bellingham, MA
★★★★★

based on

46

reviews
Overall rating: