Home
»
Gutter cleaning Watertown MA | Rain gutters, gutter cleaning cost Watertown MA
Gutter cleaning Watertown MA | Rain gutters, gutter cleaning cost Watertown MA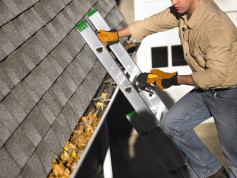 Gutter Cleaning from Vision Painting of Watertown MA, Gutter Cleaning involves removing the leaves, twigs, and gunk clogging your gutters and then flushing them out. We ensure that water is flowing properly through both the gutters and the downspouts for optimal function. And, because we're a professional Watertown MA gutter cleaners.We'll never leave a mess in your yard after we've finished your gutter cleaning. We bag the debris and haul it away so your yard looks as neat as it did when we arrived!
Professional gutter cleaning service – Watertown Massachusetts:
Gutters are a great way to direct rainwater away from your house and foundation, but they sure are a pain to clean. That's why Vision Gutter Cleaning is pleased to be Watertown MA gutter cleaning service. Let us worry about the mess in your gutters so you don't have to! Our complete gutter cleaning services are what you need — so call today!
The following is our gutter cleaning method in Watertown MA:
We take great satisfaction in offering quality gutter cleaning services for our customers. We have found that having a check list to use while we clean gutters has helped us to offer superior quality work year after year. Call backs are expensive (both in the actual expense and in customer satisfaction) so we attempt to avoid call backs at all cost. Having a check-list is a must to make sure that we always get the job done right!
We start by making certain the roof is totally free from debris so it doesn't go right back into the gutters and downspouts. There are a lot of companies that clear out gutters, but when you ask them if they will clear off the roof at the same time they want to increase the rate on you after the fact. You can be certain that when you let Vision Painting deal with your gutters, you are going to have your roofing cleaned off as well.
We then make sure that all of the gutters are cleared of debris including: leafs, Twigs, Leaf mold, Limbs. We even remove the periodic golf ball, baseball, and other kids toys that happen to find there way into the gutters.
After the gutters have been cleared out, we ensure that the downspouts are functioning correctly and not experiencing any issue draining the excess storm water away from your house
One of the very last things we do is to clean up after ourselves and to make sure all the trash that we collected is taken away.
Contact us now to get a free estimates right over the phone for gutter cleaning in Watertown MA, downspout cleaning, gutter repair and other services. Please contact us to schedule a free estimate.

---
See what our customers have to say about us!
Exterior and Interior Painting
★★★★★
"
Vision did a great job, timely quotes, responsive to phone calls, friendly painters,neat. results were great.
"
Exterior painting & Carpentry
★★★★★
"
Thank for a beautiful job! I have filled out the Angie's list form and sent it in. Nancy Fay
"
- Paul & Nancy Fay - Northborough, MA
"
Dear Marcos, We can't thank you enough for the amazing job you did coordinating the painting job for our house. It looks great and we are so happy with the work your painters did. They worked so hard and were extremely kind, polite, and professional. Please see the completed testimonial attached and thank you again everything! We will be sure to call you again for any other painting projects that we have and recommend your company to anyone we know that is looking for a painter. Sincerely, Susan
"
- Susan Sullivan - Pembroke, MA
"
Hi Marcos, Just wanted to say thanks. Our house looks great after being painted. This took a lot of stress off our shoulders as we just don't have the time to paint ourselves. Plus our painting job wouldn't look as good as the work you did!! We will definitely contact you again if we have more work. Kind regards,
"
- Lisa Busher - Bellingham, MA
★★★★★

based on

46

reviews
Overall rating: