Helping you boost your home value
Deck Building Serving Northborough, MA
Superior Deck Building & Repair in Northborough

Unique deck building and deck remodeling contractor in Northborough MA
At Vision Painting, our experts are always ready to provide extensive deck building services to enhance your property's beauty in Northborough MA. We can make your dream design a reality and make your house look amazing. Our company consists of a full-time team of dedicated professionals for deck building services. They can skillfully craft beautiful decks that suit your lifestyle and taste.
Our goal is to assist you with the entire process of converting your space into a beautiful paradise in Northborough, from concept to creation. Our team of deck building experts will guide you through the entire process. For your new deck and outdoor space, we provide a wide range of options that can be customized to your specific needs for the people of Northborough MA. Our professional team will be on hand during your deck construction process to guide you.
Best porch and deck building services in Northborough MA
Are you looking for deck or porch builders near me in Northborough? We're here to help you with an enjoyable deck building and setup experience if you're thinking about adding one to your home from start to finish. We take care of the entire deck building  process, from initial drawings to permits to completion.  We have a dedicated deck building team who can turn your vision into a reality for the people of Northborough MA. Additionally, they will make certain your new design is structurally sound and built according to all applicable building codes. So you don't need to look further for the best deck builder near me.
Having extensive knowledge, training, and experience with deck building materials, we will be able to provide you with a beautiful, well-built, low-maintenance deck you will enjoy for a long time to come. With our experience, care, and attention to detail throughout Northborough, you can be sure that your decking frame timber will be installed appropriately.
 With our design, modernization, and deck building services, Vision Painting helps investors, homeowners, and potential buyers increase the value of their properties in Northborough. In addition to providing you with a complete, one-stop service, we ensure that your investment is maximized. Our team manages all the details and keeps you updated during the entire process. We help you budget the project, put together a plan, and monitor the entire process. Whether it is a ground-level deck or building deck stairs, our services include everything.
What are the benefits of installing a new porch or deck?
Work with our Northborough deck construction service for a custom look, get the features you want, and enjoy a professional installation. Adding a deck or porch to your house offers significant advantages, whether replacing an existing build or working with a blank slate. Build an outdoor deck stair and make your house aesthetic. The following are some benefits of adding a porch or deck to your Northborough home:
Enhances the aesthetics
The landscape is significantly enhanced with a new deck or porch. A deck contractor like us who offers the best deck building services and uses top-quality materials can ensure this.
Building Space
Deck floating and porches are important for increasing living space in single-story, two-story, or three-story homes. With our deck building experts, you'll be able to experience the outdoors without leaving your home.
Value
It is almost always valuable to have a deck or porch built by professionals that are attractive and high in quality. Additionally, homebuyers will be impressed, which will drive up market value. Our deck construction service can help construct outdoor stairs to design exclusive deck frames.
How can you plan for my deck building project In Northborough MA?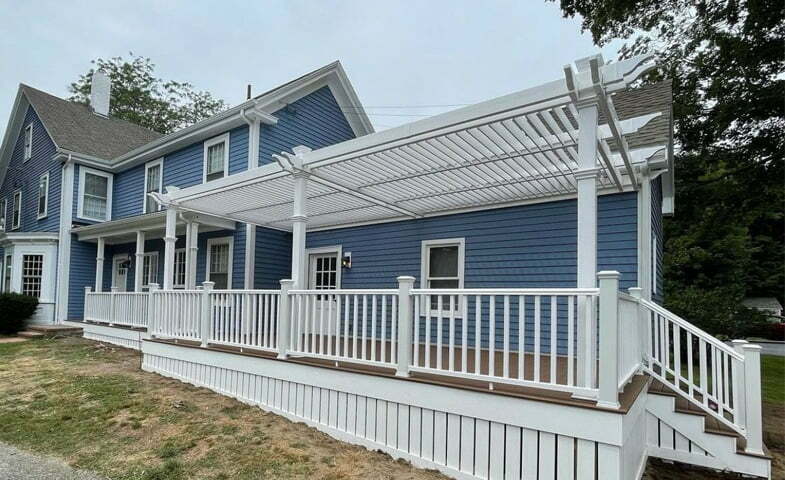 If you need assistance throughout the deck construction process, we are always here to help. Please provide us with some initial direction. Consider the following items when planning your deck project. What are your plans for your deck? Will it be used to entertain large groups of people or for small family gatherings? What extra features would appeal to you, such as privacy screens, an in-built kitchen, a fire feature, or do you need just a deck floating? Do you want a dining area, a lounge area, a cooking area, etc., on your deck? Lastly, what is your budget?Consider these questions carefully and contact our best deck building team in Northborough MA. The rest is our responsibility. Our team will help you move from conception to completion smoothly.
What to expect from the Vision Painting deck construction team?
We're here to help you if you're thinking about starting any deck construction project in Northborough. The first step is usually to schedule an appointment with our team so that we can assess your needs. The conversation will generally focus on any expectations, budget concerns, or past projects/ideas you have in mind. We value your input! As soon as we understand the size and scope of your custom deck building and deck floating project. Our goal is to ensure that no unexpected errors occur during the building process. We promise to provide you with high-quality deck building services. You can expect:
Experienced team members
Essential accessories
Quality works with safety
Response in a flash
Friendly environment
Experts who are capable of handling any situation
Many homeowners in Northborough strived to make their homes comfortable for guests and maintained enough to hose parties and celebrations. Decks make the perfect addition to a home and can increase your home's visual appeal as well as its value. Vision Painting also provides top-quality home maintenance services: Siding replacement, Deck pressure washing, Deck staining, Rotted wood repair & Exterior painting.
Why choose oue deck remodeling services?
So what makes us the best deck building experts in Northborough MA? We are a premier deck builder that brings you actual samples, colors, and options of products you can choose from. We ask questions and listen carefully to make sure we understand your budget, ideas, concerns, and desires.
Experienced Contractor
We provide you with the most qualified and experienced contractors to work on your home so that you can rest easy knowing your home is in good hands.
Craftsmanship
We are proud of the craftsmanship of the best deck building we deliver from our skilled professionals. Several of our customers have recommended us for their home additions to friends and neighbors.
Code Compliance
Keeping building codes in mind and using methods that meet or exceed them, our team ensures that your home addition is safe and sturdy.
Responds to requests
We take the time to listen before and after every project because your dreams are our inspiration for your project. Your dream deck building addition can be brought to life by us.
Trex Deck installation colors available
Trex Enhance Naturals incorporates a variety of designer colors that create a fresh, naturally beautiful outdoor living space. Enhance your decking project by choosing from standard Enhance Naturals colors, or you can add a little flair with one of our natural wood grain stains. Embrace the beauty and strength of natural wood and enjoy low-maintenance, all-weather performance that will last for years to come.
We invented the category, but we didn't stop there. That same low-maintenance innovation is available in Trex railing, outdoor lighting, and more, creating an entire Trex system of outdoor living. Consider it a package deal you can get nowhere else. Visit the Colors & Ideas Gallery to see Trex performance from the ground up.
Ready to speak with an expert?
Common questions about deck construction Northborough – FAQs
We strive to receive the most positive feedback from our valued and satisfied clients. It is what motivates our team members. Would you like a new porch or deck installed on your home in Northborough MA? Our team is here to serve you. Contact us for a free deck building quote. Get in touch with us today!
Wood Vs Composite decking- which is more expensive?
While wood products are more expensive than composites, long-term savings make them a better choice. Our team can help you update you on the latest decking technologies and products. With years of experience in business, we treat our customers like family and provide the best solutions for deck building service. For a free quote, you can contact our team.
How to maintain the deck?
For your deck to remain in good condition for a long time, it needs to be maintained. The deck surface will need to be cleaned regularly, weatherproofed, and re-painted. When choosing different options for deck installation, keep in mind that different types of materials require different levels of maintenance. You should prepare yourself for at least annual maintenance efforts as a rule of thumb.
Can I increase my home's value with a new deck?
The short and simple answer is yes. A new deck installation can increase the beauty and value of your home or property. You can give your home a thorough makeover to enjoy it to its fullest. Installing a deck can enhance the aesthetics of your home and increase its appeal to buyers as well. Imagine watching the sunrise on your deck in the early morning. You can enjoy barbecues with family and friends in the afternoon or simply read a good book. You can do all of this in your backyard.
How much should you spend on Deck Building?
It is arguably the most important question to ask upfront, as it determines the outcome of most deck construction projects. Investing in good timber and craftsmanship will cost you more for your deck construction. As a bonus, you will also increase the value of your home and prolong the life of your deck.
What is the expected build time for my deck?
This answer will vary depending on your particular project's size, style, and scope. Vision painting deck building service can meet your expectations with quality work under any circumstance.
Local deck builder serving Northborough & MetroWest MA
If you want a beautifully built deck that meets all of your needs and requirements, you need to contact Vision Painting in Northborough, Massachusetts. We build porches & decks! Every deck we construct is built soundly and according to the correct specifications.
Our contractors are capable of building any type of deck you are looking for. Whether it is adding a brand new deck to your backyard entertaining area, or fixing up and restoring an older deck that has wear and tear, you've come to the right place.
Getting you the right type of deck in the precise color or stain that you would like is possible with the help of our contractors.
Just wanted to say thanks. Our house looks great after being painted. This took a lot of stress off our shoulders as we just don't have the time to paint ourselves. Plus our painting job wouldn't look as good as the work you did!!
We can't thank you enough for the amazing job you did coordinating the painting job for our house. It looks great and we are so happy with the work your painters did. They worked so hard and were extremely kind, polite, and professional.
Company behaved professionally from their initial response to my inquiry, providing a reasonable quote and including references and proof of insurance. All members with whom I interacted were courteous and gave helpful answers to my questions.