Tired of acoustic ceilings?
Popcorn Ceiling Removal Harvard, MA
Say Goodbye to Outdated Popcorn Ceilings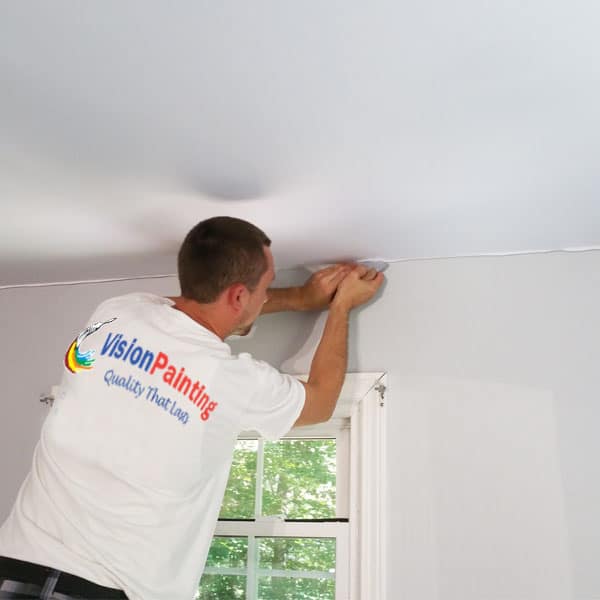 Professional popcorn ceiling removal Harvard MA
Are you in need of a Popcorn Ceiling Removal in Harvard MA? Our years of experience allow Vision painting to provide complete popcorn ceiling removal solutions to our clients. With a complete commitment to customer satisfaction, we have performed residential, commercial, and customized projects for our clients.
In the course of time, we have grown into an industry leader with a reputation for safe, productive, and efficient elevated workspaces. We provide our popcorn ceiling removal service all over Harvard and all over Massachusetts. You can rely on our expert popcorn ceiling scrapers.
You can trust us regarding the best popcorn ceiling removal service in Massachusetts. Our highly-trained technicians work tirelessly to remove the popcorn ceiling in your house. Don't look further if you need popcorn ceiling removal service near me in Harvard ma.
Our popcorn ceiling removal process
Even though there are several types of popcorn ceilings in homes across Massachusetts, they all share one thing in common. It is crucial to remove popcorn ceilings in a comprehensive, multi-step manner. Our company performs all necessary checks and preparations for a clean popcorn ceiling removal in Harvard and around Massachusetts.
Here are the steps our professional popcorn ceiling removal crew follows to make the work perfect:
In preparation for removing the ceiling, light fixtures and switches are removed from the room.
Taking care of your interior elements is the next step. We cover everything, including furniture and floors, to prevent dust and ceiling residue from building up. When removing the popcorn ceiling texture, protecting the furniture is doubly important.
The easiest way to remove painted ceilings is to leave them unpainted. Our effective solution makes the stucco disappear, leaving behind a smooth ceiling.
To remove painted ceilings, a greater number of preparation chemicals and materials are necessary. The experienced team member on our team can successfully handle that for getting rid of the popcorn ceiling.
A sandable surface is revealed upon removing the stucco (ceiling texture). We finished with the best smooth ceiling surface.
If we find cracks, stains, or other damage in removing your popcorn ceiling, we fix that too when necessary.
Afterward, the removed material is vacuumed, cleaned, and removed from the house.
We will be there for you every day until the job is done properly. As a top priority, we strive to make the renovation process as painless and seamless as possible in Harvard. After your initial consultation, we will provide you with different solution suggestions.
Benefits of removing popcorn ceiling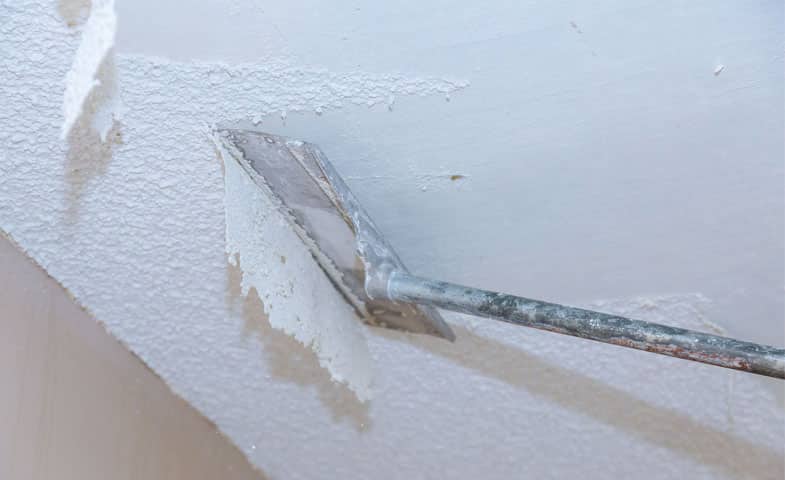 Popcorn ceilings are being removed not only because they're outdated but because they're unsightly as well. A popcorn ceiling can also cause other problems, such as the following:
It isn't easy to clean them.
There is a possibility that they contain asbestos if they were installed before 1977.
Repairing them is difficult.
You may lower your home's value in a buyer's eyes.
Popcorn ceiling removal in Harvard may seem like a small thing, but it can greatly improve your home's look and feel. We handle all types of painting services including but not limited to: Residential interior painting, Commercial painting, Exterior painting & Wallpaper removal.
What to expect from our popcorn ceiling removal team?
Our goal is to provide top-quality popcorn ceiling removal service to all our customers in Massachusetts. Since we are 100% confident in our work, you can rely on us. With our specialty services, you can turn your outdated ceiling into one that looks attractive and elegant. Because vision painting offers the best popcorn ceiling removal scrapers
Taking proactive measures to enhance project-site safety is important to us. Having a highly-trained and experienced team for removing the painted popcorn ceiling will give you peace of mind. You will be satisfied with the results provided by our popcorn ceiling removal scraper technicians in Harvard. We have mastered our techniques through time and experience and this is why we offer prices that almost anyone can afford in Harvard.
We do not believe in rushing the process of taking shortcuts. We will come to your job site for a free consultation to ensure the job is done right. With short lead times, we can get you started right away.
Staff who have practical experience
Equipped with all essential accessories
Provide professional service all over Massachusetts
Ensure quality works with safety
Response in a flash
Highly skilled experts capable of handling any situation
Work at any designated home
We are providing the best popcorn ceiling removal service in Harvard and around Massachusetts Due to the decades of experience of our team in the industry.
What is the Time it takes to remove popcorn ceiling?
We can usually finish a small area in a minimum of days. According to the size and number of each room, our best technicians from Harvard can perform the popcorn ceiling removal work quickly. You may need to allow more time to complete the project if your home is large. We will need to spend a little longer painting the ceiling if you want us to do it afterward. Get a free in-home estimate today to learn how long your project will take!
Why choose our popcorn ceiling removal service?
Each customer has different expectations, and we respect that. Our first walk-through focuses on listening to your concerns and providing you with options that will satisfy your requests and meet your budget.
Affordable popcorn removal service near me
Since we have been in the business for so long, we are familiar with emergencies and unexpected situations. We proudly offer our popcorn removal service in Harvard and around Massachusetts at affordable prices.
Our team of popcorn ceiling removal experts is ready to help at the drop of a hat if you need popcorn ceiling texture solutions in Harvard. We do this without blowing your budget. There are so many other companies you can choose from in Harvard. We are, however, the best in our field. No matter what your budget is, you can talk to us. We can help to remove popcorn ceilings. We ensure 100% customer satisfaction by explaining the job description in detail and walking customers through the project's final phase.
Reliable workers
Removing popcorn ceilings is a dangerous and difficult task left to a professional crew. That's why we only hire the most reliable workers. In addition, we're aware there are no margins for error when it comes to popcorn ceiling removal works, so we use products or equipment of the highest quality. The use of top-quality equipment and the highest level of safety allows them to complete the job to a high standard.
Ready to speak with an expert?
Common questions about popcorn ceiling removal Harvard- FAQs
Our goal is to always receive the best compliments from our beloved and satisfied clients. This is what inspires us the most. Let's see what they are talking about Vision Painting services
What is the proper method for replacing popcorn ceilings?
After you apply knockdown to smooth out your ceilings, you can refinish them however you like. After removing the old sated popcorn ceiling, you can decorate it with a new texture and make it look more attractive. 
Do we need to move out while the work is being done?
Please stay away from the work area while we're working while you're at home. As soon as we're finished, you can use the room again because all surfaces are covered with plastic, so there is no mess to clean up.
How should you prepare my popcorn ceiling for the removal team's arrival?
If you have us remove your ceiling, please remove anything that can catch pieces of the ceiling as we remove it. We'd appreciate it if you removed any bed linens, knickknacks, or anything that might catch.
 While we make every effort to keep the area around the ceiling as clean as possible, removing the popcorn ceiling is a messy process. Upon completion of the work, our ceiling scrapers sweep and vacuum, but we recommend that professional cleaning be done after we leave.
Is there vapor or fume that can be harmful?
Not at all. For preventing exposure to harmful substances, we use ventilation and low odor products to remove popcorn ceilings.
How do we benefit from removing the popcorn ceilings in our home?
There are many benefits of using popcorn ceiling removal solutions. Homeowners who remove popcorn ceilings typically increase the value of their homes by thousands of dollars. Besides, you can make their home look attractive, modern, and beautiful.
How do you provide other services?
The team at Vision Painting is proud to offer different other services besides popcorn ceiling removal. We can help you with painting, smooth finishing, decorative texturing, etc.
Popcorn ceiling removal in your local area
Our crew is committed to getting the job done right the first time. We perform safe and effective acoustic texture ceiling, removal, and drywall repair while keeping your space clean throughout the process.
From removing furniture to providing professional coverings, we make sure your property and your home are kept mess-free. In addition, we always complete the project on time and on budget, sticking to the schedule and estimate we provided.
If you want your home to reflect your style, be sure to call the experienced team at Vision Painting for expert popcorn ceiling removal in Harvard.
Just wanted to say thanks. Our house looks great after being painted. This took a lot of stress off our shoulders as we just don't have the time to paint ourselves. Plus our painting job wouldn't look as good as the work you did!!
We can't thank you enough for the amazing job you did coordinating the painting job for our house. It looks great and we are so happy with the work your painters did. They worked so hard and were extremely kind, polite, and professional.
Company behaved professionally from their initial response to my inquiry, providing a reasonable quote and including references and proof of insurance. All members with whom I interacted were courteous and gave helpful answers to my questions.