Cabinet Refinishing Merrimac, MA
Best kitchen cabinet refinishing in Merrimac
Welcome to our Professional Kitchen Cabinet Painting Service
We at Vision Painting offer a dedicated team to paint or refinish your existing kitchen cabinets to give your space a more modern feel. We will work with you to design the perfect look for your kitchen. Our team will help you select the perfect kitchen cabinet painting in Merrimac MA. You can have the cabinets painted if you'd like, or we can re-stain them to show the wood grain.
The renovation of the kitchen cabinet painting process moves much faster since you are not required to remove the entire unit. Our professional painters and experienced reps have perfected the kitchen cabinet painting. During the first few days of painting, our painting crew prepares the cabinets by cleaning, sanding, caulking, and filling imperfections. In Merrimac MA, we use the best technique to make your kitchen cabinets look beautiful. You can rely on our kitchen cabinet painting ideas for your cabinet refinishing work.
What are the benefits of hiring Kitchen Cabinet Refinishing company?
Rediscover the joy of your kitchen
Remodeled houses and new kitchens have something in common, and that's a beautifully painted kitchen cabinet, right? Choose the colors according to our choice and let us do the rest of the job. Merrimac's service will help you get the best-looking kitchen with our kitchen refinishing and painting of wood cabinets. You will fall back to loving your kitchen cabinet painting again.
Increase the value of your home
Cabinet painting and refinishing is a wise investment that will pay for itself when done by professionals. Besides, home buyers in Merrimac look closely at the kitchen cabinet painting. Investing in kitchen cabinet refinishing and painting will increase the value of your home. Try our experienced team for repainting kitchen cabinets for your Merrimac homes.
Save on your investment
There is no need to spend more on your kitchen cabinets in Merrimac. Installing new cabinets or refacing old ones is a much more expensive option. So why not use our kitchen cabinet painting service and give a new look to your kitchen without investing much?
Cabinet Painting Services
We offer economical Kitchen Cabinet Painting in Merrimac. Objects are painted, then coated with an opaque solid-color finish (non-transparent). Cabinet wood with the good resorbable grain shouldn't be painted or stained. This wood should be stained (refinished). After the cabinets are completed, you can change the countertop. It usually takes about a half-day or so for countertop installers to lift off and replace an existing countertop. Choose the color you want. For example, dark blue kitchen cabinets look more beautiful and modern.
Cabinet Refinishing Services
Our team members also provide cabinet refinishing services. So you don't need to look further. Cabinet refinishing near me in Merrimac. During refinishing, we remove the top finish (clear coat) and any underlying color or stain. Then, we apply the stain color along with the clear-coat finish in the sheen or gloss you prefer. It is important not to confuse cabinet refinishing with remodeling.
Our experienced Kitchen cabinet painting team in Merrimac provides cabinet refinishing, restoration, resurfacing, painting, reconditioning, and resurfacing services. Depending on your needs, you may choose only to have the damaged portions repaired and reconditioned, blended in, and finished. It is the process of matching small surface imperfections to the surrounding surface. This helps our clients of Merrimac to get the previous format back of the cabinets.
What to Expect From Our Kitchen Cabinet Painting Team?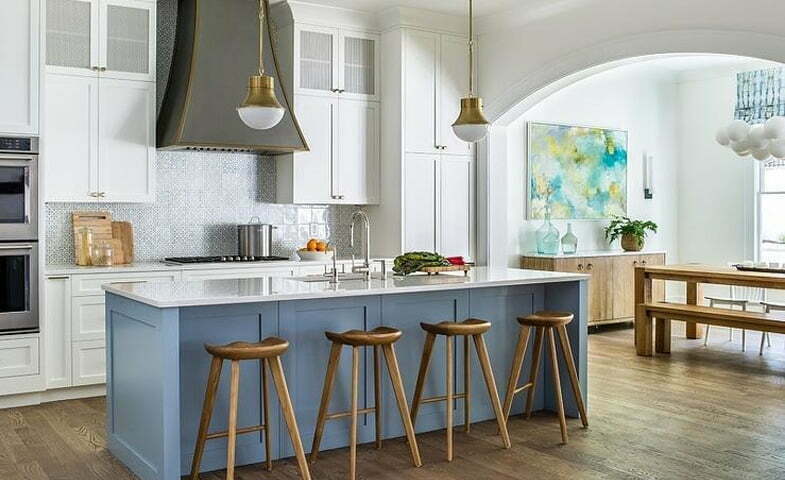 The process of kitchen cabinet painting and refinishing is filled with nuances, so it's essential to hire an experienced real estate team. With our extensive experience, team members of Vision Painting can advise you with kitchen cabinet refinishing and painting. You can trust us to help you through every step of the process. You can rely on our service for painting bathroom cabinets, kitchen cabinet paintings, or painting oak cabinets. We have restoration staff who are knowledgeable and have the following skills:
Experience
Ensure quality and safety of the work during kitchen cabinet painting
Response in a flash
We have professionals who can handle any situation
Efficient team members
Affordable plans
Quick and easy work
Friendly team members
Budget-Friendly Kitchen Cabinet Refinishing Merrimac
The fastest and most economical way to transform an outdated kitchen into a modern masterpiece is to have your cabinets refinished professionally. Do you have outdated kitchen cabinets that you can't replace but don't have the funds for a remodel in Merrimac MA? Looking for kitchen cabinet painters near me? Vision Painting's Kitchen cabinet painting service can paint or restore your old wooden cabinets to a color of your choice when ready for a change. So don't worry about the cost of the paint cabinets.
We can professionally paint or stain your new cabinetry if you install new cabinets. In addition to providing you with a free estimate, we can help you choose the right color for your cabinets. We provide residential repairing kitchen cabinets and commercial kitchen cabinet painting refinishing in and around Merrimac. Our cabinet painting service is also included: Interior Painting – Exterior Painting – Deck Staining – Power Washing – Ceiling Popcorn Removal …
What a Difference We Make
Vision Painting focuses on putting a fine finish on your kitchen cabinet paintings. To ensure outstanding results, we pay close attention to every detail. Moreover, when you work with us, you can rest assured the manager will be actively involved in your kitchen cabinet paintings and improvement project, offering you the outstanding results our clients have come to love and expect. In our company, each cabinet finisher is dedicated to the trade. Your cabinets will be finished to a high standard because of our expertise and quality control. Trainees or subcontractors do not perform our Kitchen cabinet painting and refinishing. So you don't need to look further for the best cabinet painters near me.
Your kitchen cabinets will receive a fresh, new look with our cabinet painting and refinishing service. With years of industry experience, you can always be sure that you are getting your money's worth when you come to us. Using high-quality products and finishes combined with traditional and modern methods, we can give your cabinets a durable, beautiful finish that is easy to maintain.
Ready to speak with an expert?
Kitchen cabinets refinishing Merrimac – FAQs
What is the lifespan of the kitchen carbonate coating?
The answer to this question depends on how well you maintain the cabinets and the quality of the coatings applied at the beginning. You can maintain your painted cabinets for several years by investing in quality coatings and maintaining them regularly. However, if you're not careful, your cabinets may start losing their color and/or peeling after a few years.
Should I be concerned about dampness?
Excess humidity may be an issue if you plan to paint your wood cabinets during a rainy season. If the humidity is low and hot outside, it is best to paint your wood cabinets during these conditions.
Is it necessary to make sure the cabinets are clean?
The kitchen is one of the hottest, greasy, and generally messy areas of any house because so much cooking takes place there each day. Paint right over old paint that was not washed will lead to disaster, even if your cabinets look clean.
How to care for kitchen cabinet coating?
Keep your painted kitchen cabinets clean and reduce the amount of moisture, sunlight, and temperature fluctuations in your kitchen to maintain the paint job's durability (and interior painting in general). You can reduce heat and humidity in your kitchen by maintaining proper ventilation and protecting the paint on your cabinets from fading by blocking direct sunlight with curtains.
How long does it take to paint kitchen cabinets?
Most of the time, it is determined by the project's size. A complete kitchen cabinet painting project can take ample time, much like the cost. Painters with less experience may take longer to complete each step of the process, or they might speed up some steps and cut corners. On the other hand, reputable painting contractors like vision painting take the minimum time to meet your needs.
Kitchen Cabinet Painting from Curb Appeal in Merrimac MA
Cabinets are the face of any room in your house in Merrimac, and they can be the first impression guests get when they visit. A quality paint job for your cabinets is a worthy investment that will last for years and years if done right.
For any type of cabinet refinishing, curb appeal's professional painting contractors are trained to provide premier painting services with excellent customer service. Our painters are experts in priming, painting, and finishing cabinets of any material.
Just wanted to say thanks. Our house looks great after being painted. This took a lot of stress off our shoulders as we just don't have the time to paint ourselves. Plus our painting job wouldn't look as good as the work you did!!
We can't thank you enough for the amazing job you did coordinating the painting job for our house. It looks great and we are so happy with the work your painters did. They worked so hard and were extremely kind, polite, and professional.
Company behaved professionally from their initial response to my inquiry, providing a reasonable quote and including references and proof of insurance. All members with whom I interacted were courteous and gave helpful answers to my questions.