Deck Staining & Refinishing Holyoke, MA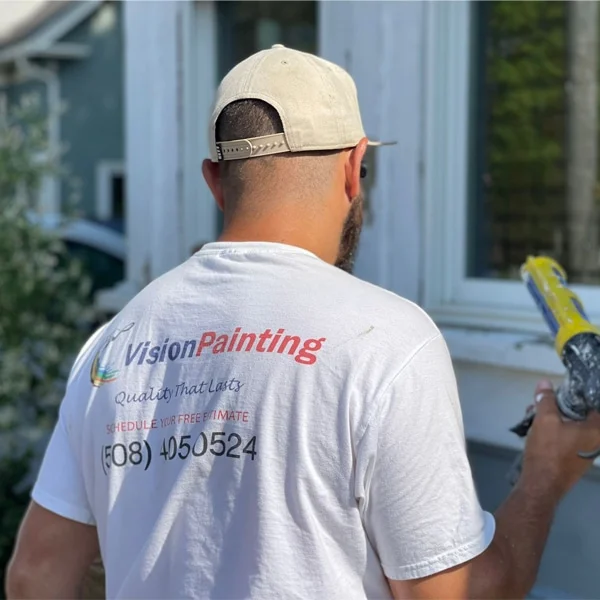 We provide professional deck staining services Holyoke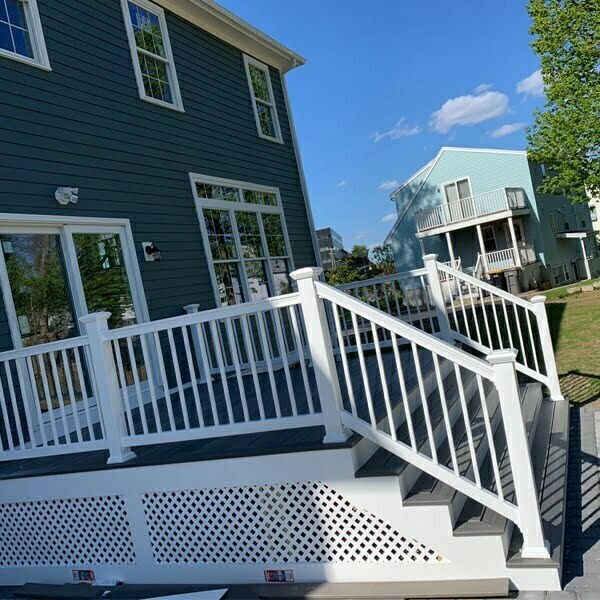 Our Deck Staining & Restoring Services
We at Vision Painting provide comprehensive deck staining services for Holyoke MA residents. In order to improve the appearance of your home. Our professionals can help you to increase the longevity of your decks. We're a team of deck staining experts who knows how to perform their jobs based on the style and material of your deck.
Our goal is to provide affordable deck restoring services for the people of Holyoke. We offer personalized deck refinishing packages to ensure our clients' total comfort. From choosing the right color to cleaning your deck before applying stain, we care about everything in the project.
Are you searching for deck staining services near me? Then look no further because Vision Painting professionals are ready to provide you with the most affordable and long-lasting deck coating services in Holyoke. Our team is ready to attend your calls anytime.
Protect your deck and improve its look
Installing a deck on your property is a great way to increase the value of the home. Besides, home and business owners of Holyoke enjoy a great time outside with a decorative deck. But, with time and weather, a deck's resilience is quickly stripped away, leaving it looking dirty and worn. It is possible to restore a deck stain to make it look as good as new once installed. Our expert professionals from Holyoke can do everything you need to make your deck attractive and stylish again. All you need to do is call us, and our staff will take care of the rest. Feel free to contact us at any time if you need a consultation or have questions about our deck staining or sealing services.
Why do you need deck staining services?
With a deck, you and your loved ones can enjoy a private area to relax, entertain, and host parties. In addition, the people of Holyoke add decks to their homes as a symbol of luxury and add value to their properties. But to keep these wooden decks in the best shape and look their best, regular maintenance is required. Staining your deck periodically can help you to keep it looking great for a long time. What makes regular deck staining so important, and why do you need to have it done as part of deck maintenance? Deck Staining will: 
Improve the appearance of your deck
Deck staining is cost-effective
Prevent rot and infestation to extend its lifespan
Keep moisture out and protect from damage
Protect your deck from sun damage
Are you looking for deck cleaning and staining companies in Holyoke? Then you can count in Vision Painting. Our company offers complete deck refinishing services. We keep you updated during the entire deck staining process and manage all the details. Our company provides the most reliable and trustworthy deck staining and deck sealing services to the people of Holyoke.
How can a professional deck staining company help you?
Most people of Holyoke think that deck staining is a simple job. It is possible to wash, clean, and brush your deck to prepare it for staining yourself and save money. But the process is quite more complicated than you think. For example, staining treated wood needs a paint pad applicator, an easier process than brushing. There is a number of other tools and tricks that need to be used to do the job perfectly. If you want great results, you should hire a professional deck staining service. The following are some advantages of hiring deck staining professionals: 
Professionally clean and prepare your deck when the weather it right
Repair damage and wood rot
Choose the right stain for your deck
Remove mill scale before staining the newly installed deck
Use different tools like sprayers, brushes, and rollers to stain
Ensure a smoother, more attractive, and more durable finish.
Choosing the right help is worth it if you want the best results from deck staining services. Our professionals are always ready to assist you with deck staining works in Holyoke.
How much do we cost for our deck staining services?
Vision Painting offers personalized deck staining services to the people of Holyoke. Depending on the location, design, size, and design of the deck, the price may differ. Furthermore, if you have any special requirements or needs, we can also accommodate them. Customer satisfaction is our top priority. We strive to listen to our clients. In addition, if you have a specific budget, please do not hesitate to contact us for a free, no-obligation consultation.
How do we perform our service?
Our professional deck staining experts prep your wood to ensure smooth coating. Besides, staying on the coat for a long time is important. We ensure great ROI (return of investment), and your efforts pay off. Before starting our deck refinishing work
Wash your deck
We use a pressure washer or hose to remove any existing dust. As a result, the coating will be smoother and stay in place for longer.
Select the right stain
Our professional can help you to choose the right stain depending on your deck material, style, and condition.
Remove cracks and splinters
To cover damage, fill in small holes and grooves with paint. Stains are very thin so they won't cover or fill in holes. You can trust our deck staining service in Holyoke.
Signs that you need a professional deck staining services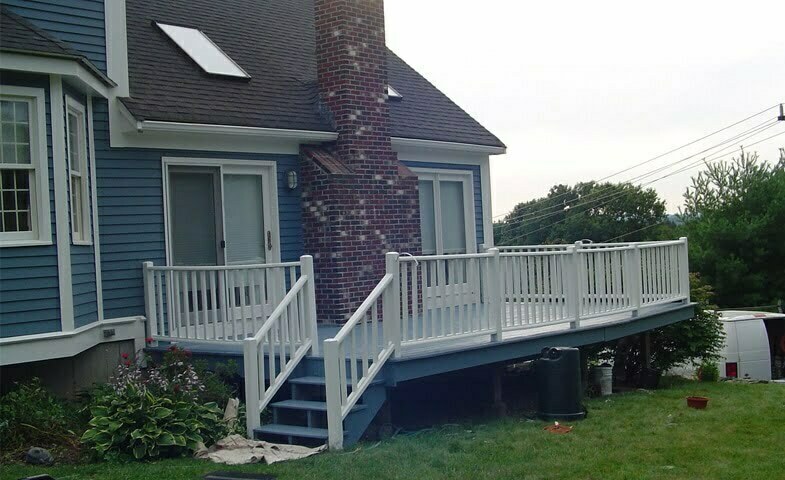 It is sometimes confusing for people to determine whether they need a deck staining service. Several common signs can help you determine if you need decking treatment.
The Deck surface looks thin, worn, or patchy
Split or cracked boards
Peeling paint
Your deck looks old and dry
Mold & mildew visible on the deck frame
Loose screw
Wood damage like warping and splintering
Water tests can also indicate whether re-staining is necessary. Adding some water to your deck will do the trick. If your deck is in good condition, the water will bead up and roll away. If the water begins to absorb, maintenance is necessary. You can rely on our professional Holyoke deck builders to help you. Besides, we offer not only free deck care consultations, but also power washing, deck building, exterior painting, gutter cleaning, and much more! Do you need any suggestions?
Why choose our deck refinishing service?
Vision Painting provides quality deck staining service all over Holyoke. You can rely on our professional if you are looking for deck refinishing near me. Our transparent deck coating service comes with no hidden charge. From selecting a perfect stain to finishing the project, we can take care of everything. Our professionals have years of experience working in the field. Every tiny aspect of the project is taken care of by us.
If you're thinking about maintaining or increasing the life cycle of your deck in Holyoke, we're here to help. We aim to ensure that no unexpected errors occur during the deck varnishing process. You can expect:
We provide expert team members
Ensure proper cleaning and washing before putting stain
Affordable project plans
Quality works with safety
No hidden charge
Free Consultation
Providing service
If you want your deck to last longer, you need professional deck staining services. Our expert team is here to serve you. We look forward to hearing from you!
Ready to speak with an expert?
Common questions about deck staining projects Holyoke – FAQs
Our Deck Restoration service is intended for wood decks with blotchy coating, severe splintering, and flaking. It is designed to return your deck to beautiful, like­-new condition.
What is the expected deck staining project time?
The answer to this question will vary based on the size, style, and scope of the project we will be working on. Our deck finishing service can meet your expectations and deliver quality work under any circumstances.
How often should the homeowner take deck staining services?
It is recommended that you stain your deck every three to four years. A few signs will help you determine that you need deck refinishing services like a cracked board and peeling paint. It would help if you took care of your deck before it showed any signs of aging to extend its lifespan.
When is the best time of the year to stain?
You can rely on our team of experts for smooth, controlled, and high-quality deck finishing services all year round. Our team prepares your deck for staining by power washing, drying, and removing cracks.  
How soon will I need to stain my brand new deck?
Staining a brand new deck needs to be done within a short amount of time, but not immediately. Depending on the materials, a new deck requires about 30 days to cure before staining. Before staining pressure-treated lumber, it should be allowed to dry for at least six months.
Services from a deck restoring company in Holyoke MA
When it comes to choosing deck stain colors, there are plenty of options, from natural-looking clear wood stains to bold solid colors. While you're looking for one to suit your project, you should consider that a clear stain will bring out the wood grain, while a solid color will reveal very little of the wood's natural color.
Many homeowners in Holyoke leave their pressure-treated wood as is because they think that you can not apply stain to treatment. This is not the case. There are many different shades of stain that can complement the look of treated wood. You can stain all decks whether they are pressure treated or they have already been stained.
Just wanted to say thanks. Our house looks great after being painted. This took a lot of stress off our shoulders as we just don't have the time to paint ourselves. Plus our painting job wouldn't look as good as the work you did!!
We can't thank you enough for the amazing job you did coordinating the painting job for our house. It looks great and we are so happy with the work your painters did. They worked so hard and were extremely kind, polite, and professional.
Company behaved professionally from their initial response to my inquiry, providing a reasonable quote and including references and proof of insurance. All members with whom I interacted were courteous and gave helpful answers to my questions.