Wallpaper Removal Charlton, MA
Longstanding Award Excellence Wallpaper Removal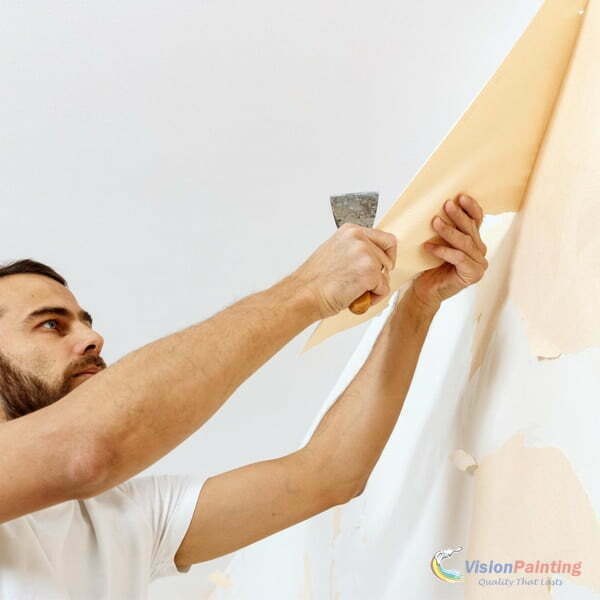 We're proud of our wallpaper removal services in Charlton MA
We at Vision Painting offer the most convenient way to remove wallpaper at your property in Charlton MA. Our company provides a team of wallpaper removal experts to offer you the best possible solutions. We know how to handle different types of wallpapers.
Our professional team members have years of experience in the field. As a result, you can rest assured that your house improvement project in Charlton will be completed on time. We can help you to get the most comprehensive wallpaper removal service in Charlton.
Let us know the details of your project, and we will send them to our professionals at your home. If you have questions regarding our wallpaper removal service, contact us anytime. We are always ready to answer your calls. In short, we are your one stop shop for wallpaper removal and so much more!
With our efficient wallpaper stripping in Charlton, guarantee complete satisfaction
If you want to refresh your room with new wallpaper or a fresh coat in Charlton, you will need to prepare the wall first. The right wallpaper stripping process will provide a smooth and clean wall before decorating. The stripped wall helps you to avoid air bubbles and creases when you hand new wallpaper to your house.
It would help if you had proper care and spent time on wallpaper removal work. And a professional wallpaper removal company in Charlton can help you do the job correctly. We can help you with removing wallpaper and removing wall stickers in Charlton. Our experts are always available to assist you. We are offering a free quote for wallpaper removal service in Charlton MA.
How our professionals can help you in wallpaper removal works?
Wallpaper removal may seem like a DIY task, but it is consuming, messy, and tedious. Most of the people in Charlton think they can do the job easily. But the fact is that to get the best results; you require expert team members. To get the desired interior in your house, you need to hire a professional wallpaper removal service in Charlton MA.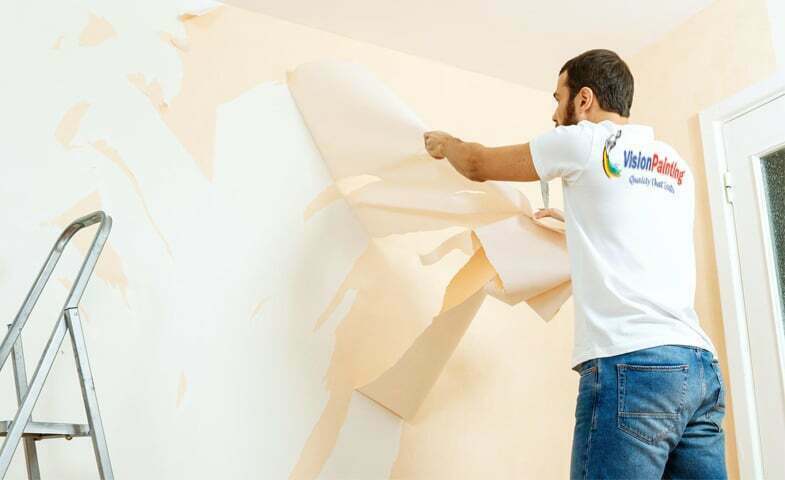 Our team can handle any wallpaper stripping job. We use the best way to remove wallpaper from your residential and commercial property in Charlton MA. Our team is well-equipped and us the latest and modern techniques to perform the job. We will: 
Prepare the walls, including protecting the socks
Minimize the risk of damage to the wall
Save you time and money
After completing the job, clean the property
With Vision Painting, you will have experienced painters who know how to safely remove the old paper without damaging the surface unnecessarily. If in the rare case where damage can't be avoided, our skilled house painters are able to repair the drywall, woodwork, or textures properly right there on the spot. You'll always get more with Demore! Interior painting, Popcorn ceiling scraper, Garage floor painting, Drywall repair and much more!
Our wallpaper removal process
Our team at Vision painting takes the most effective approach to perform wallpaper removal works for the people of Charlton MA. We know that wallpaper needs different approaches to get the best possible result. Depending on the wallpaper size, type, and age, we make a workable plan which helps us to provide you with a clean and smooth wall. Whether you have a regular or peel-and-stick wallpaper, we can handle both. From removing wallpaper glue to removing wallpaper borders, our services include everything. Look at the basic approach of our wallpaper removal services in Charlton.
 
Clean up the surface using a non-toxic solution.
We use an advanced tool to peel away the wallpaper
Prepare the surface
Clean the walls
Reasons & benefits to remove your old wallpaper
There can be numerous reasons why you need to remove your old wallpapers from your house, office, or business. The reasons may include: 
The old wallpaper looks outdated
Wallpapers are expensive to maintain
You want to provide a new look to your house
Wallpapers hide mold and dirt
You want a better paint finish
Painting over wallpaper is much more difficult
Our professional wallpaper removal experts can help you to get the best possible solutions. Feel free to contact us any time if you'd like a free consultation regarding wallpaper off projects. We will be happy to help you with the right suggestion.
Remove wallpaper safely without damaging your surface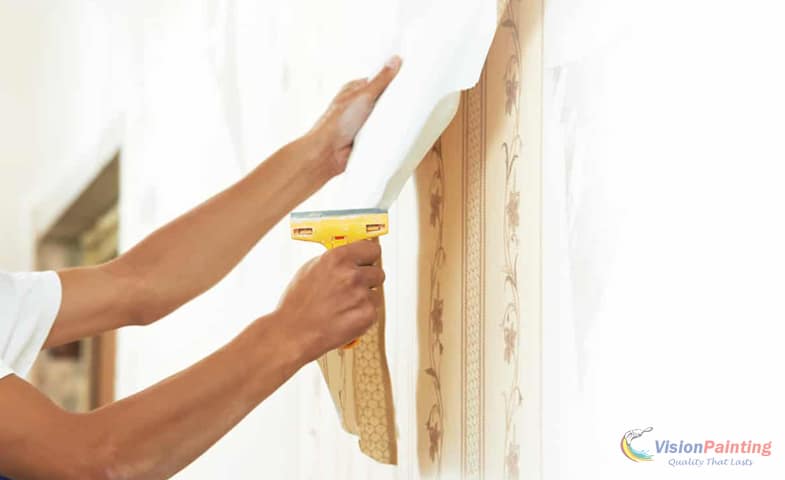 We at Vision Painting care about your property. Taking the wrong steps when removing wallpaper can cause damage to the surfaces beneath. You need to apply the right process depending on the underlying surface. Our contractors are experienced in safely removing old paper without damaging the surface. Upon examining the surface area, we choose the best procedure for the job. You can safely remove wallpaper from the woodwork, drywall, and textures with our skilled technicians.
How to get our wallpaper removal services?
Vision painting offers the most affordable wallpaper stripping or removing services in Charlton. We have kept everything simple for the people of Charlton MA. All you need to do is give us a call; the rest is our responsibility. Our team members strive to listen to our clients. You can talk to us over the phone if you have any requirements or needs. We will provide you with an early estimation or visit your place to provide an accurate estimation.
How are we different from other wallpaper removal companies?
You can rely on us if you are looking for a trustworthy company to provide wallpaper removal solutions. We at Vision painting offer the most efficient wallpaper removal services. When you work with us, you can rest assured that we will exceed your expectations. Our team of experts uses the most advanced techniques and equipment to provide a clean and smooth wall. We can handle any wallpaper removal project. Our expert will offer you exact estimation before starting the project. We don't ask for any extra fees after finishing the work. 
100% satisfaction guaranteed
High level of quality service
Provide expert wallpaper removal team
Upfront pricing
Handle any type of wallpaper
Quick response
Emergency service
Friendly technicians
Our crews use the highest-quality tools available for wallpaper removal, from the simplest scraping and sanding tools to heavy-duty industrial steamers. Thanks to years of professional experience, they will do the job faster and better than any DIY enthusiast.
Ready to speak with an expert?
Common questions about wallpaper removal Charlton – FAQs
With our comprehensive wallpaper removal services, we aim to achieve the highest level of customer satisfaction. We need to hear from the people of Charlton MA. So that we can continuously evolve our working process and service quality, you can read what people have to say about our wallpaper removal services.
What is the cost of wallpaper removal services?
There is no exact answer to the question. Once we receive your call, we will provide you with an estimate based on your location, the project size, and the type of wallpaper you would like removed. The cost of removing wallpaper is the lowest at Vision Painting.
Is it possible to wallpaper over old paper?
Placing wallpaper over old wallpaper r is not a wise decision. Ideally, you should remove your existing wallpaper to install the new one.
Do you remove the target peel and stick wallpaper?
Yes, we remove the peel and stick wallpaper as well as the traditional ones. To remove the stick on the wallpaper, we use sharp objects to pull it off your wall. If it doesn't work properly, we go ahead with a different procedure.
How can wallpaper removal service be beneficial to me?
The process of removing wallpaper is not as simple as it sounds. Properly performing this task typically requires knowledge and experience. For this reason, you should hire a professional wallpaper removal service for your project. You can count on our expert team to provide a convenient and affordable wallpaper removal service. Our expert first inspects your home to remove wallpaper and selects the right method. We can help you peel off wallpaper from your home, office, or business without damaging your property.
Is it possible to paint over the wallpaper?
Although you can paint over the wallpaper, that is not a good decision. If you paint over wallpaper, you can experience bubbles and loose paper painting quickly. Considering this option in extreme cases (such as deteriorating walls) is only recommended. It is essential to prepare walls extensively to achieve satisfactory results. Our professional wall removal experts can help you to make the right decision. You can rely on us to remove traditional and peel-and-stick wallpaper easily.
How long will it take to perform your wallpaper removal services?
The time frame mainly depends on the paper's age, home texture, and project size. We use the easiest and most effective way to remove wallpaper from your property. With our modern equipment and experience, we can perform wallpaper removal services at the earliest possible time. Additionally, our company offers emergency services to meet the needs of customers.
Find a local wallpaper removal contractor near you today
You may want to move away from wallpaper entirely after its removal. Combining our wallpaper removal and painting services is a great way to effortlessly transition from wallpaper to paint in one project. After the wallpaper is removed, we ensure that it is perfectly primed for painting with a skim coat and any necessary retouches, leaving you with a smooth surface that has all the possibilities of a fresh wall.
When we come to your home for an estimate consultation, we can help you decide which is the best choice – removing wallpaper or painting over it. call us or schedule an online estimate!
Just wanted to say thanks. Our house looks great after being painted. This took a lot of stress off our shoulders as we just don't have the time to paint ourselves. Plus our painting job wouldn't look as good as the work you did!!
We can't thank you enough for the amazing job you did coordinating the painting job for our house. It looks great and we are so happy with the work your painters did. They worked so hard and were extremely kind, polite, and professional.
Company behaved professionally from their initial response to my inquiry, providing a reasonable quote and including references and proof of insurance. All members with whom I interacted were courteous and gave helpful answers to my questions.