Do you still need clarification on whether to repaint your home before putting it on the market? Painting a house is a high-impact but time- and money-consuming. However, deciding whether or not to repaint a home before putting it up for sale can take time and effort. 
Meanwhile, repainting will add additional character and beauty before putting it on the market. Read on to know if it's ideal for repainting your home before putting it on the market, understand its benefits, and some best services for any painting project.
Signs Its Time repainting your home
Potential buyers will form an impression of your home based on its look. A fresh coat of paint is recommended before listing your house for sale. Will you genuinely believe the inside of a home is clean and well-kept if you see a house peeling or with faded paint? But before you jump into it, here are some tell tale signs that it's time to repaint your home. When:
1. Outside paint has Faded
Eventually, the paint will fade if left exposed to the elements for too long. Repaint if the color seems to have lost its luster.
2. When Paint chips and Peels
These problems can instantly ruin a home's curb appeal and give potential buyers the impression that the property has not been well maintained.
3. Wood rot, wall gaps, and other structural damage
In many cases, cleaning may not eliminate moderate mold and mildew growth. However, you will need to repaint your walls if mold or water damage is so severe that it eats through the surface.
5. When Your Home Is Not Eye Appealing
Selecting a paint color that stands out too much from the surrounding homes might positively impact a buyer's opinion of the property.
Why Repainting Your Home Before Selling
Painting a property before selling it is the single most effective technique to increase its potential sales price. However, there may be exceptions to the rule regarding selling in your neighborhood, unlike the Weston City area. There are lots of benefits in painting your home before selling; the painting will:
Help attract buyers
A new coat of paint may do wonders for a space that hasn't been touched up in years, helping to make a good impression. Again. When making a good first impression, wallpaper is a definite no-go. New Paint makes for far more excellent images and gives most buyers a choice and consideration. Houses look and feel cleaner and brighter after being painted. Very friendly and light. Those are two words that homebuyers frequently utilize when making a decision.
Provide a spotless and gleaming surface
Like new carpet, the aroma of freshly painted walls is pleasant and evokes a specific feeling in potential purchasers.
Think About Selling Points
When showing off your home, you want potential purchasers to have a different impression. An easy way to make your property look modern and appealing to buyers is to paint the interior and exterior walls.
Buyers can Easily Visualize Living There
If the house is freshly painted, the new owners have a blank decision to make it their own. They will be shown a space that doesn't meet their taste but rather one where they can easily imagine their children playing, their crafts coming together, or their visitors staying. Buyers are more likely to commit to a purchase when they've developed a sentimental relationship with a property they may imagine themselves occupying.
Elevates Your Home's Market Value
Repainting your home not only increases its worth through an unbeatable curb appeal. Have you ever seen what a fresh coat of paint can do for a fence starting to peel? Adding fresh paint to your home's inside, and exterior will increase its visual attractiveness. Houses painted a specific hue made an extra thousand dollars compared to unpainted ones.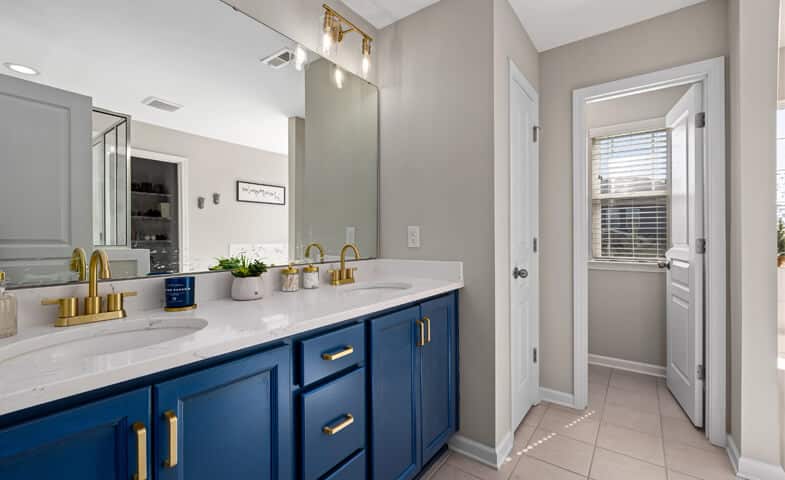 Repaint Your Home Vs. No Paint before Selling
There are some situations in which home sellers may not need to repaint after listing their property for sale. The primary argument against painting is whether the expense would be too high concerning the potential payoff.
Though repainting often yields a significant return on investment, most times. If you do it yourself, a coat of paint can brighten up a room for little cost, but hiring a professional might add more returns with a professional touch.
Do you know the market in Weston City is quite cyclical? Cheaper houses sell like hotcakes. A home that is well-maintained and clean can sell as rapidly as a property that has recently been repainted. Having the house painted can be a worthwhile project at times, but other times it may not, only if you frown on the cost of repainting.
When considering repainting your home for a sale: Where Do You Start?
Very few people think repainting the exterior of their home once they've finished the interior could be their worst mistake. Remember that the exterior first impressions are equally as crucial to a potential buyer as the home's interior.
Therefore, you must consider the condition of the inner and outer walls as critical in determining the correct response. Here are some things to consider when repainting your home before selling.
Consider Exterior Painting
Repaint the property walls to appeal to potential buyers. Not only is it crucial that your home's exterior looks well, but so does the first thing people see when they walk through the door.
Often, the most excellent aspects of a home are shown and highlighted in the foyer, which also serves as a mood-setter. Maintaining a neat entrance is crucial to make an excellent first impression on the buyer.
Ensure Interior Repainting
Painting the inside of a home gives it a new, updated look, can change the ambiance, and draw attention to architectural details. Most importantly, the foyer, the kitchen, and the bathrooms are guaranteed to capture buyers' attention.
Choosing The Best Colour/s
Neutral colors are great for marketing a home because they give the impression of more space, making it easier for potential buyers to see their furniture in the area without having to redecorate, and make it seem more ready.
If you've decided to repaint, go easy on the vivid hues. There's no guarantee that a buyer will share your preference in paint color or furnishings. It could be the deciding factor in whether or not your home sells if the buyer has to do any painting before or after moving in.
Repaint Corroded and Damaged Parts
The need to make repairs to dings, fading paint, and general deterioration is one of the most crucial justifications for painting the house before selling. It would help if you repaired any worn-out sections of the house before marketing it since purchasers will perceive them as having less value.
Also, spot painting is cheaper than whole-house repainting. If you remember former colors, you can easily cover over marks and scratches. It could save you money and time.
Hire A Professional Painting Company
A professional painter should always be hired while preparing to sell your house. A bad paint job will shatter potential buyers' expectations and presumptions about the property.
Frequently Asked Questions
Is painting your property a worthwhile investment before you put it up for sale?
Yes! Your home's resale price will increase as a result. That cost-benefit analysis is favorable to the majority of consumers. Although it may be costly and time-consuming initially, the return on investment will be well worth it.
What is the lifespan of a freshly painted wall?
Depending on the quality of the preparation, the environment, and other factors, an exterior paint job on a wooden house can last anywhere from five to seven years. Homes with stucco or brick exteriors can get up to ten years before they wear out.
Can I DIY Painting?
After weighing the costs, many homeowners think buying paint and roller and doing the job themselves is the best, rather than paying a premium to have professional color. 
Without the oversight of professionals, DIY projects often end up taking longer and costing more than expected. Hire Painting Professional like vision painting in the Weston area.
What Does It Usually Cost To Paint A House?
A typical cost to paint the exterior of a 1,500 square foot home ranges from $3.6k-$7k, with the average being $5400. However, depending on various factors, the actual price range can be significantly more expansive, ranging from less than $1,000 to more than $10,000.
Conclusion
When considering selling your home, you should change its look and feel. The best way is repainting the house, decluttering, and maintaining the yard. Making you maximize the housing market's price trend, make more money, and enhances home staging for sale.
Look no further if you need a house painter in Weston Area. Consult Vision painting for free painting consultation and free estimate.